How we use Notion for project management
Emil Bryggare
Emil Bryggare
At Convas we are a very small team and everyone is involved in everything at some level. We use Notion for both project management and knowledge management. In this article, I will explain how we think about project management and how we handle it today using Notion.so. Are you also a small team? Tell us how you work!
We strive for simplicity and to reduce the number of tools we use. If you are a much bigger team, the advice in this article will probably not make sense for you. If you have cross-functional teams or team members that are not involved in everything, I highly suggest that you look at clubhouse.io.
I am a productivity nerd so how we organize ourselves is important to me. I have probably tried most task- and project management tools on the market. When we started we began using Asana for project management and Notion for knowledge management.
Asana's interface is super polished and a joy to use however, I find the tool to be too inflexible. Asana has very limited sorting and filtering options compared to something like Clubhouse. However, Clubhouse felt too heavy for us.
We already used Notion for knowledge management, so we decided to try if we can get rid of yet another tool and consolidate project management and task management in Notion.
How we think about project management
Work in a board, plan in a list
When doing the actual work, we like to visualize the work in a board view. However, for thinking about the big picture and planning, we found it much easier to get an overview and prioritize the backlog in a list view.
The board should only contain work that is in progress or flagged as up next.
Tasks are divided into three categories.
We divide our work, and tasks, into three categories.
These categories are simple enough to remember and strike the right balance for us. As we work in a very small team, it helps us focus and not neglect any category. Brad Feld originally inspired us about this with his post The Three Machines.
The categories are mostly self-explanatory, customer's tasks could, for example, be writing this article or responding to customers on our feedback page at feedback.convas.io.
Overview and prioritize across all categories.
When deciding what to do next and what is most important. We find it very helpful to be able to plan and think about a category in isolation, with the ability to see an overview and prioritize across all categories. The smaller the team, the more valuable this is.
This works well for us since, and contrary to what is otherwise recommended, we make our tasks as big as possible. More on how we do this below.
How it works in Notion
This is our Notion for Convas. This article will mostly talk about the Workspace, that is where all project management happens. Notice, however, that we use the "Company", "Product" and "Customers" structure for the knowledge management part of Notion as well.
We have a single database for all our tasks, this is the Workspace. That database has multiple views, I will give a short description of each one of them and why we use them. A task in the Workspace is simply a Notion page, which is awesome.
In the board view we do all the work, and prioritize tasks with status "Next Up". Only tasks with status are shown on this board. Tasks are sorted by priority, but we can choose and pick what freely from this list as we have already defined that these are important now. At the end of each week we have a short retrospective and look at completed tasks before setting the status to "Archived", and then the tasks are removed from the board.
We plan the work for the different categories using the Product, Customers, or Company views. When we should start working on a task we simply set the status Next Up and it will show up on our working Board. This could also be done from the Backlog view which is used as an overview across the different categories.
We make our tasks as big as possible. This makes it much easier to take a quick glance at a view and understand what is going on and what is prioritized. For example, we will create a task "Write blog post for product roadmap" in our workspace and in that task, we write the description, have discussions, and all subtasks to that task. And remember, a task is a Notion page and this is where Notion really shines with its flexibility.
In the "By People"-view you can see tasks assigned to people in your organization and in the archive view you can see all your archived tasks sorted by date. On days when it feels like there is zero progress, it helps going back and look at everything you have achieved over the past weeks.
Our final tip is to make use of the power and flexibility of pages. Use inline comments, mentions, and lists within tasks.
Here is the project management template if you want to give it a try! Tell me how you work at your company and let us know what you think about this article. Get in touch at emil@convas.io or find me at twitter @emilbryggare.
And for the Notion team, here is our wish list: 🎁
Notion API (We know you are working on it)
Comments should be searchable. If we have discussions in a page, we want to be able to find that page or discussion by searching.
Drag and drop sorting shared across database views. Bonus if this is possible even when combined with another search variable. See how clubhouse.io solves that.
Add that to your customer feedback and suggestions list.
Other than that, we are very happy with Notion and it has served us well when building and improving our customer feedback tool.
Plug: Convas, a feedback page for your company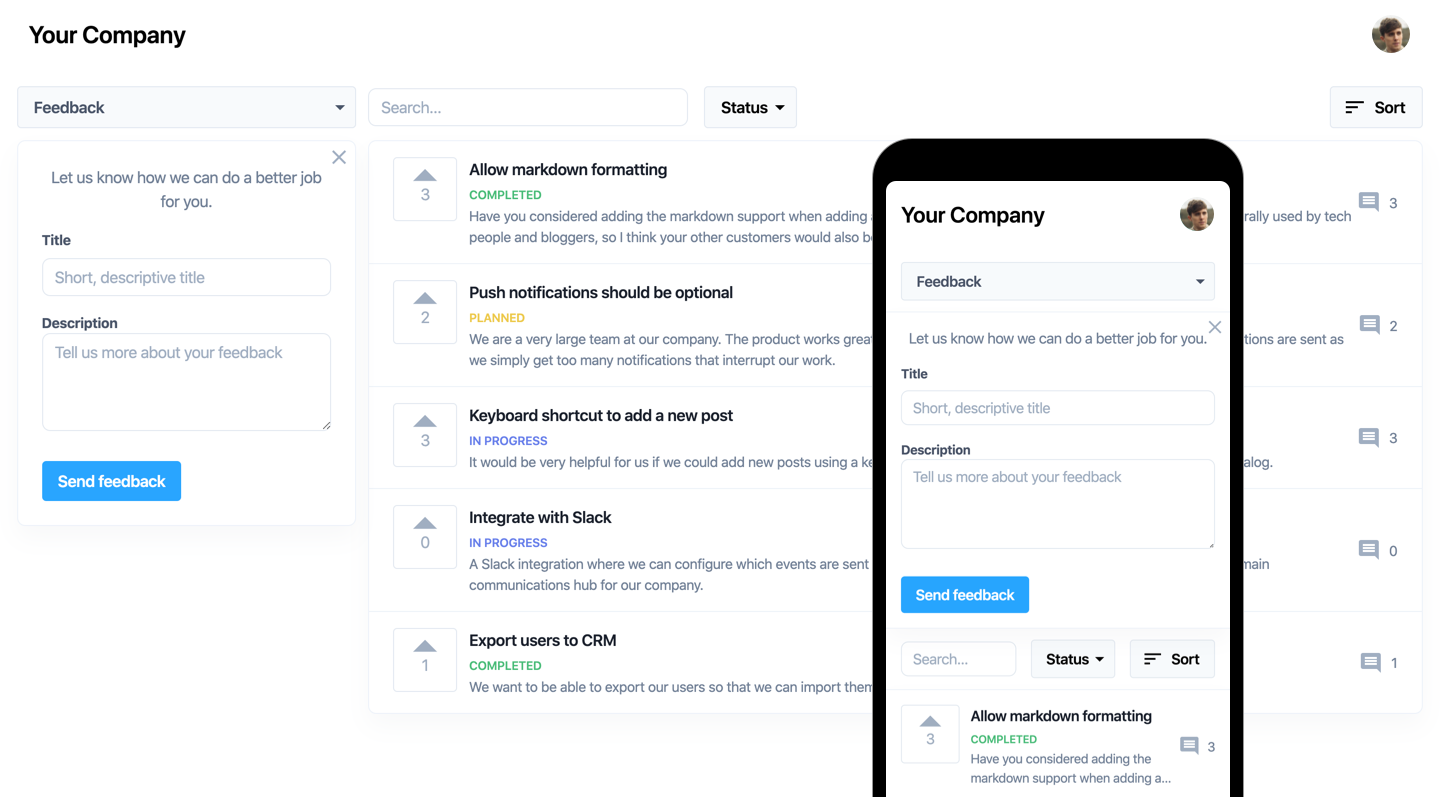 Convas is a feedback page for your company. Gather all your feedback in one place, understand your customers and build the right products.
Your customers can share, discuss and upvote feedback in one organized place. Stay in control without messy spreadsheets, emails and Slack notifications.
Its a product manager's best friend. Try it for free.