Feedback page for SaaS companies - Announcing Convas
Emil Bryggare
Emil Bryggare
We are proud to announce Convas. After lots of hard work it's finally ready. Convas is a feedback page for companies, where their customers can share, discuss, and upvote feedback. In this post I will explain why we built Convas, why we believe in it and who we are.
Why Convas?
At Convas we believe that the best way to build a product is in close collaboration with your customers. We also believe that the best products will win, but winning also means keeping your wonderful customers happy. That is why we built Convas, to help to build better relationships between product teams and their customers.
Over the past few years, we have seen an increasing number of companies embracing transparency and openness. They found that it was both beneficial for their business and a more rewarding way to run their company. Their customers could relate better to them as they appeared more humane and friendly. On Twitter, CEOs of these companies can talk directly to their customers, respond to questions, and share their thoughts on that popular Netflix show. It's a wonderful time to be alive and connect with other people.
We hope that we will help companies build better products and meaningful relationships with their customers. Curious? Please take a look at convas.io for a more in depth explanation of how it works.
Who is Convas?
Convas was founded by me and Helena, who is also my wife. We are bootstrapping the business as we would like to keep it autonomous and lean for as long as we can. Both of us are big fans of the fantastic people at Basecamp and what they have built.
Back in 2005 Seth Godin wrote a piece called "Small is the new big", fast forward to 2020 and it seems he was right.
We are currently based in Stockholm, Sweden, but we are building a distributed company. Convas is available now for all companies around the globe.
The future
We have big plans for Convas and we have just started on our journey. We would love for you to follow us on our journey. If you are a software business, especially B2B, I think you will find Convas really useful. I would love for you to give it a try. And feel free to reach out to me at emil@convas.io or helena@convas.io at any time.
Update 10 June 2020:
Companies using Convas are now able to display their customer feedback organized by status on their own public product roadmap.
Plug: Convas, a feedback page for your company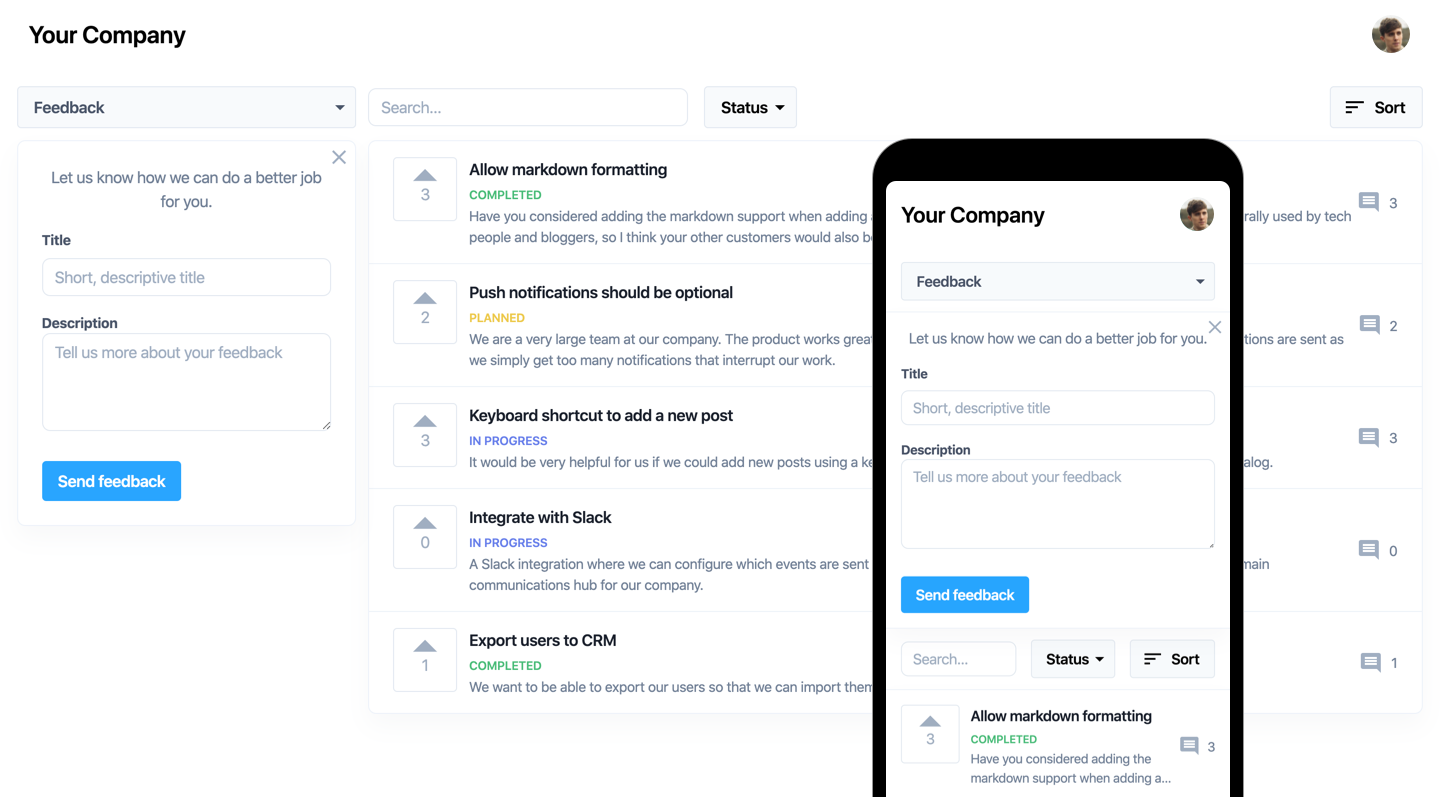 Convas is a feedback page for your company. Gather all your feedback in one place, understand your customers and build the right products.
Your customers can share, discuss and upvote feedback in one organized place. Stay in control without messy spreadsheets, emails and Slack notifications.
Its a product manager's best friend. Try it for free.