Feature Voting Template - Google Sheets
Helena Ahlström
Helena Ahlström
TL;DR here's the template.
What is feature voting?
Feature voting or roadmap voting is when your customers upvote features that they want you to build. Typically, you gather a list of feature requests and then let your customers vote for the features that matter the most to them.
Why use feature voting?
There are three main reasons to use feature voting
Know what matters most to your customers (and which customers care about what)
Prioritize your features and roadmap based on data
Let your customers know when you launch something that they have asked for. This can be a real game changer that your customers will love 🚀
Read more about why you should use feature voting.
Template
We think feature voting is great. Convas is a feature voting tool, so we are obviously biased though 😉. That being said, we want as many as possible to see the benefits and power of feature voting. That's why we put together a Google Sheets template to get you started.
Here's how it works
Open the template & download a copy (File / Make a copy)
Enter any feature requests that you receive (title, details and who requested it)
Keep track of the status of the feature request by selecting the status in the drop-down. The statuses can be customized by going to the Input sheet (input your custom statuses in the gray fields and they will be shown in the drop-down).
When other customers request the same feature, add them as upvoters (if you have more than one upvoter, separate them with a comma). The number of upvotes is automatically updated when a new upvoter is added.
Sort your requests by the number of upvotes (or by anything you want) by clicking the funnel symbol in the relevant column and selecting Sort A→ Z or Sort Z → A.
Tip: add the email addresses of the upvoters and not just the names so that you can notify them when you have launched the feature that they have requested.
I hope you find this template useful. If you like using feature voting, you should give Convas a try (we have a free 14 day trial).
Plug: Convas, a feedback page for your company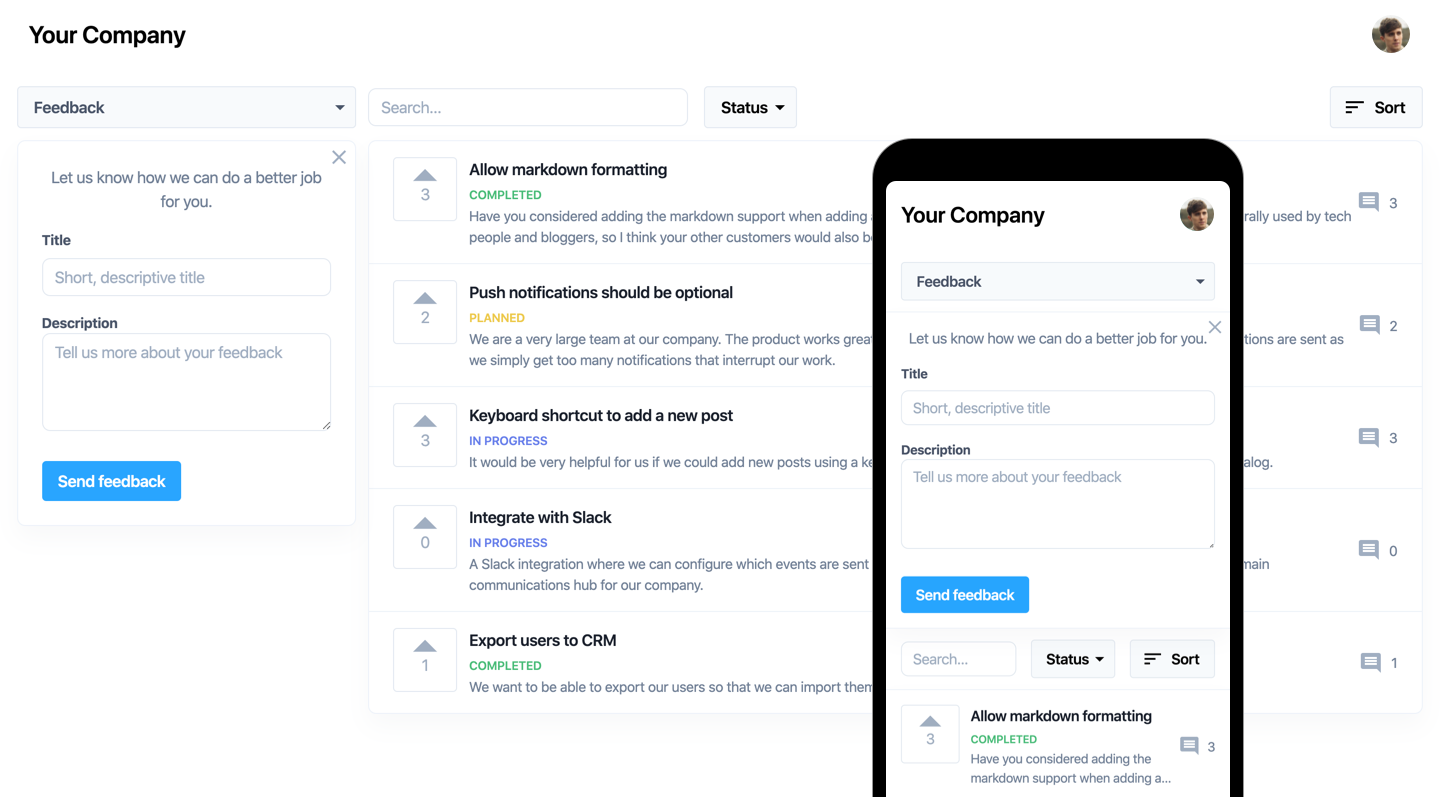 Convas is a feedback page for your company. Gather all your feedback in one place, understand your customers and build the right products.
Your customers can share, discuss and upvote feedback in one organized place. Stay in control without messy spreadsheets, emails and Slack notifications.
Its a product manager's best friend. Try it for free.