Why you should have a public product roadmap (+ SaaS examples & templates)
Helena Ahlström
Helena Ahlström
Are you thinking about making your product roadmap public? In this post I go through the main benefits of having a public or open roadmap. I also share examples of open roadmaps as well as tools and templates to build your own.
What is a public product roadmap?
A public roadmap is typically a public webpage where a company shares what they are working on and what they have recently released, accessible to anyone. SaaS roadmaps typically fall into two different buckets, timeline or time horizons based.
Timeline roadmap
Roadmap that is based on a timeline showing planned releases for the coming months/quarters. Front's roadmap is an example of this. They also include ideas and coming soon.
Time horizons roadmap
Roadmap with time horizons showing what is planned, in progress and done (or some version of that). Our own public roadmap and Buffer's are examples of this. (If you want to read more about timeline vs. time horizons, I find this is an interesting read).
Then there are of course other ways of doing it. Trello only shows what they have recently completed on their roadmap.
Reasons to make your product roadmap public
1. You customers will love it
Your customers will love you for being transparent. Once you share what you are working on, your customers will be more inclined to let you know what they are thinking and interact with you directly. Transparency is a great way to build engagement. Front even found that people with experience from similar problems to those on the roadmap proactively offered their help. Github just announced that they are making their roadmap public:
What we're trying to do is provide a way for people to see what's coming, join in that dialogue and give us feedback and be able to collaborate with us
GitHub's SVP of Product Shanku Niyogi
2. Attract new customers and differentiate from your competition
Website visitors that are looking around and thinking about signing up for your product will appreciate the transparency of a public roadmap. They will have a better idea of what they're signing up for and what's to come, especially for early stage SaaS companies. Use a public roadmap as a differentiator, something that makes you stick out from the competition.
Similarly, a public roadmap makes it easier for your sales team to close prospects. It gives them an easy way to answer questions such as "what are you working on" and "when will you build this feature". It could be a super power for sales - imagine a customer asking for a certain feature and you showing them that it's in progress on your public roadmap.
3. Build the right features based on customer feedback
By sharing your roadmap, your customers will let you know whether they think you're on the right track or not. Their feedback on your planned features can be invaluable to make sure you're prioritizing the right things and building features that they actually want. Front calls it a "supplemental feedback loop to the product development process".
4. Good for your team & stakeholder alignment
Sharing your plans and roadmap openly will make sure your team has thought through what goes into the roadmap and make them more accountable on delivering it. Buffer says it encourages the team to think more long term and be more deliberate about what they build.
Other than your team members, it can also be a great way to communicate with and answer product questions from stakeholders such as investors and partners to build alignment.
What about my competition knowing what's on my roadmap?
This is a valid concern, especially if you're in a highly competitive space with little differentiation between players. However, it could be argued that it's rarely about the exact feature that you plan to build, but rather your execution - how you decide to design, implement & communicate it. In the words of Front on dispelling the competitor myth
If we can't beat our competition on execution, we can't win.
Buffer even goes as far as saying that it's a good thing that your competitors know what you're working on.
As founder of a public roadmap tool for SaaS companies, I am obviously biased and a proponent of public roadmaps.
Examples of open roadmaps
Tools & templates to create your own public roadmap
Below is a list of tools that you can use to set up your public roadmap including our own product, Convas, and a few popular other ones.
Convas
Public roadmap tool for SaaS companies.
Trello
Both Buffer and Front have build their roadmaps using Trello. Read more about how to set up your public roadmap using Trello.
Notion
Gumroad uses Notion for their public roadmap. Notion has a roadmap template that you can use and then make the page public.
Coda
Intercom has built an awesome product roadmap template in Coda, although more built for internal use.
Airtable
Airtable has a product roadmap template that you can then make public.
Google Sheets product roadmap template
If you're looking for a general roadmap template, we have built a Google Sheets product roadmap template.
With the template, you can keep track of all your planned features. Once you set the status, the feature is shown on the product roadmap.
Google Sheets is not ideal for sharing your roadmap publicly. But if you do want to share it, just set the link sharing to "Anyone on the internet with this link can view" and share the link.
Get the template here!
To wrap up
A public roadmap is something that your customers (and potential customers) will love. They will engage more with you once you share what you are planning and working on. With more engaged customers, you can use their feedback to make sure you're building products that they will value. In the end, it comes down to growing your business faster and keeping your customers happy.
If you want a public roadmap, you should give Convas a try (we have a free plan to get you started).
Plug: Convas, a feedback page for your company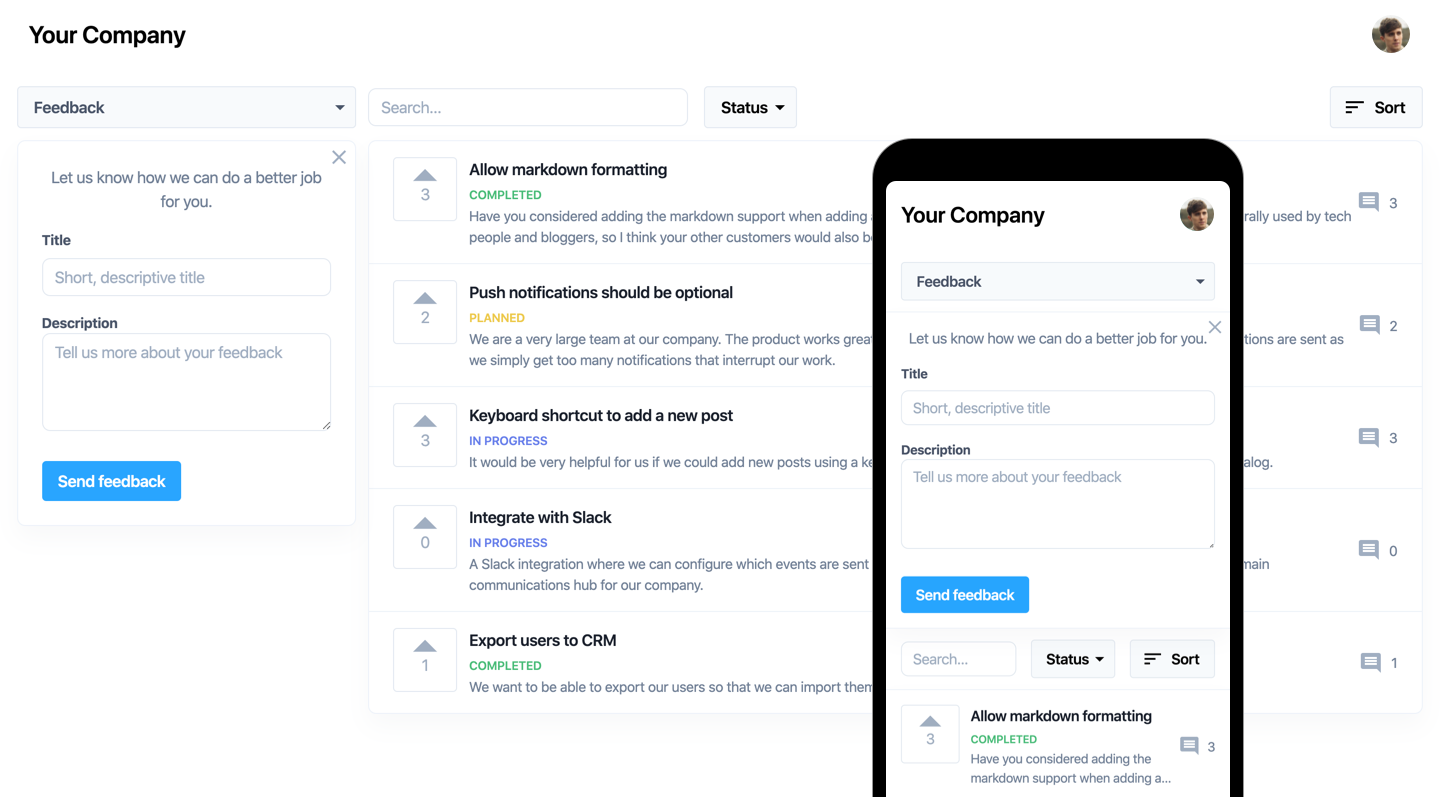 Convas is a feedback page for your company. Gather all your feedback in one place, understand your customers and build the right products.
Your customers can share, discuss and upvote feedback in one organized place. Stay in control without messy spreadsheets, emails and Slack notifications.
Its a product manager's best friend. Try it for free.